Get to know our bridal stylists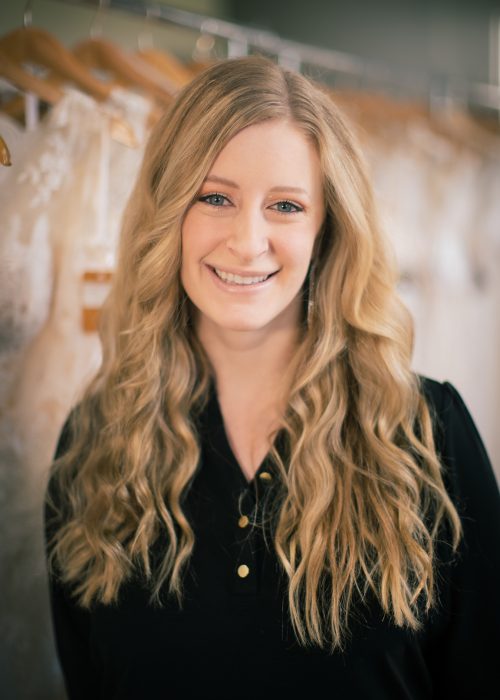 Shelby, owner and bridal stylist – My passion for the bridal industry dates back to my college days at the University of Wisconsin-Platteville, where I worked part time as a consultant at a cute , little local bridal boutique. I had always hoped my career would take me back to my bridal roots and when the opportunity came about in early 2020 to purchase Eva's Bridal Center and its sister store in Brookfield, Evermore Bridal, I knew I had to go for it! My team and I collectively have seven decades worth of bridal experience. I absolutely adore working with brides and I live for the "I'm saying 'yes' to' the dress" moments. It is a dream having such a special part in the making of a bride's big day – and making new friends along the way is an added bonus. 
Carrie, bridal stylist – I have been happily involved in the bridal industry for 20 years.  My background in wedding coordination gives me the ability to understand her vision and together we are able to find her perfect dress and bridesmaid dresses.  Each bride is so special to me and I am both humbled and honored to help them say "yes" to the dress.  
Chris, bridal stylist – I started working for Eva's when it was located on historic Mitchell Street. I cannot imagine doing anything else. I love hearing every bride's story and seeing the expression on my bride's face when she realizes she found her perfect dress. It is a priceless moment to share and one of the most beautiful things in the world is seeing a bride in her bridal gown.
Cora, bridal stylist – I began working at Eva's Bridal Center in 2019, and just six months in I was promoted to assistant manager of sister store Evermore Bridal in Brookfield – that is where I spend most of my work week. I truly thrive when it comes to gown customizations and owner Shelby often calls me "The Bridal Encylopedia" because I am quick to learn and memorize every element of each dress. I still work at Eva's from time to time and I love celebrating with brides in the stores when they find their perfect dress. 
Rachel, bridal stylist – I view each bridal appointment as a chance to meet a wonderful new person, learn about their love story and find out what is most important to them when it comes to their happiest day ever. I began working as a. bridal stylist in 2021 after owner Shelby – my dear friend from college – said I would make a great addition to the team. I work mostly at sister store Evermore Bridal in Brookfield. The excitement I get when a new gown arrives at the store is matched only when I help the bride meant to wear it say "yes" to the dress. 
With the inception of the Eva's Bridal Center in 1946, our long-standing name has deep roots in bridal.  We have had the pleasure of working with thousands of brides in the Greater Milwaukee Area.  As a team, we worked diligently to define our brand by your experience, the Eva's experience, including not just our product and processes, but also our stylists who represent our brand and everything we stand for.
We redesigned and remodeled a beautiful space, providing an unforgettable experience for every bride. We know that buying a wedding dress is so much more than the dress.  It is the start of an amazing journey together, the start of a new beginning and a special time to share with friends and loved ones.  At the end of the day, we want you to not only fall in love with your dream dress, but also with us at Eva's Bridal.  We are here to help you find your dream wedding dress and want to be here for you every step of the way until you walk down the aisle.
Being voted #1 best wedding dresses for the last four years is an honor. Our continued expansion and diversification of our designer collections resonates with our brides looking to find that truly, one-of-a-kind special wedding dress.
With the evolution of our Eva's Bridal brand, we were thrilled to open the doors to our second location, Evermore Bridal, with the intention to bring the 'downtown boutique' experience to the suburbs, making it accessible to all brides in centrally-located Brookfield. As an extension of the Eva's Bridal brand, we have received a very warm welcome from the city and our brides. It has been a blessing and an amazing journey to grow and expand our business, offering a complimentary, yet uniquely-different, set of designer offerings and bridal experience for our brides.
The Eva's Experience: Only the Best for Our Brides
We know that buying your wedding dress isn't just about the dress. It's about your experience, too.  At Eva's, we want you to find and fall in love with your wedding dress, but we also want you to fall in love with us. Our team is so passionate about our brides and is dedicated to providing each bride with her ultimate bridal shopping experience, from the moment she arrives until the day she wears her dress and says 'I Do'.  We want your experience to be all that it should be: fun, memorable and successful!
At Eva's, we have designed and remodeled our store, keeping our bride's experience as our top priority.  We have a beautiful interior with large fitting rooms and more than enough seating space for your family and friends.  Every bride will enjoy a comfortable shopping environment.
Our bridal appointments are scheduled for at least an hour and a half, which provides each stylist with time to learn about you, your wedding dress preferences and your complete wedding day vision. Then, we cater fully to you to make it happen and make your vision come to life. Your dream dress awaits, so let us help you make it a reality!